From the May 2013 issue of Backwoods Home Magazine.
http://www.backwoodshome.com/nl/nl1305.html#tip?utm_source=Newsletter+-+May%2C+2013++&utm_campaign=Newsletter+1305&utm_medium=email
SELF-RELIANCE TIPS
Great local cheap entertainment
By Stephen Tracy
With the cost of everything going up and the economy taking a head-spinning rollercoaster ride, who can afford to go to the movies?
Looking for fun, educational things the whole family can do? Want to meet your neighbors in fellowship and have fun and do things for your community? Would you like to have a bigger voice in your local, county, state, and federal government?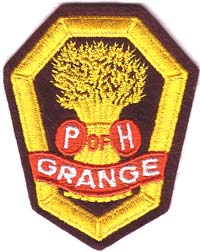 Why not check out the Grange? The Grange is a grassroots family fraternity based on agriculture and bettering rural life.
The Grange was organized in 1867 to help farmers in the Midwest get a better return on the farm products that were shipped east. The trains were charging exorbitant prices for shipping, getting richer while farmers were going bust.
The Grange was the first fraternal organization to admit women as equal voting members. Yes, women could vote in 1867!
Since the train robber barons were trying to infiltrate the Grange and break it up, there were secret passwords and handshakes to prove membership before anyone could enter a meeting. Granges were the warehouse-buying clubs of the 19th century.
The Grange is responsible for promoting rural mail delivery, rural electric service, and the interstate systems to help rural farmers.
Today's Grange works strongly on needs in the community, promoting legislation issues, and fun educational programs. Some of the programs in the Grange include sewing, crafts, talent, writing, art, photography, public speaking, as well as baking and agricultural contests. The ritual and lessons are agriculturally and family based.
Benefits to members include life insurance, life lines, hearing aides, discounts on hotels, credit cards, car rentals, prepaid legal services, pharmacy discounts, and scholarship grants and loans.
The Grange has a Junior Grange for kids age 5-14 where they learn discipline through the ritual and have fun proje cts and learning activities. For adults there is the local Community Grange, county or district Pomona Grange and State and National.
Although the Grange is based on promoting and supporting agriculture, it has expanded to include community service and legislation. Legislators say the Grange is an organization with power.
Some of the activities of the Grange across the country include fairs, public meals, assisting the elderly and low income families, volunteering, farmer's markets, buying coops, agricultural education, budgeting workshops, encouraging leadership skills and promoting social and recreational fellowship.
Two other programs are the Dictionary Project and Community Citizen Award. The Dictionary Project, also called "Words for Thirds," is an endeavor at promoting education. The Grange presents dictionaries to third graders including homeschoolers. The Community Citizen Award is presented to a citizen who exemplifies volunteerism in their community.
My annual income is less than $10,000 so I cannot afford much in life. The Grange is the social highlight of my life. I get a feeling of value in life being able to do things for my community within my financial ability. I joined when I was 14 and have worked my way up to the state and national levels through contests and committee responsibilities.
To find a Grange or to get one organized in your area check out www.nationalgrange.org, call 1-888-447-2643, or write National Grange, 1616 H St. NW, Washington, DC 20006.